Erika - Operations 
My current favorite holiday film is A Very Murray Christmas. Bill Murray is too cool for school in the best way, and he invited a variety of interesting celebrities to join him in one of the quirkiest flicks of the season. Who knew Maya Rudolph had such incredible vocals or that Chris Rock's are so abysmal? Jenny Lewis secured her spot in my heart as the indie music princess, and George Clooney is Mr. Charming USA, obviously (and my husband agrees!). I loved wrapping presents near the Christmas tree this year, enjoying a bizarrely adorable story line and festive music. 
Beca - Brand Building
Home Alone 2: Lost in New York. I come from a household of nine, so we always had fun imagining the possibilities of getting lost while traveling as a group. The second movie definitely beats the original, because who doesn't love Christmas time in New York? It's a good balance between hilarious and heartwarming.
Vero - President
I love to watch It's a Wonderful Life!  It always reminds me that we are all special, important, and capable of touching the lives of others even when we don't know it.
Goli - Relationships
How The Grinch Stole Christmas (the cartoon version). I love the heartwarming story and fanciful animation of Whoville. How can you not love Cindy Lou?!
Ben - COO
My favorite Christmas movie, besides every claymation Christmas special featuring the voice of Burl Ives, is the quintessential American action film, Die Hard. It has all of the essential elements of a great holiday film: peak wisecracking Bruce Willis as an everyman hero, classic snide Alan Rickman (RIP), copious cowboy references, a Christmas party gone off the rails, East Coast-West Coast cultural tension, intrafamily strife resolved within a crisis, exploding glass buildings, skepticism of bureaucratic efficacy, a thwarted terrorist-heist plot, unalloyed victory in the face of impossible odds, navigation via elevator shafts and air ducts, outstanding 80s hairstyles, and crisp one-liners delivered into a walkie talkie. Time to book my tickets for the holiday showing at Alamo Drafthouse. Yippiee-ki-yay for Christmas!
Brian - eCommerce
The Nightmare Before Christmas. It's a very versatile movie that can double as a Halloween or Christmas movie. Either way, it helps get me into the holiday spirit.
Aida - Human Resources
I love to watch all the Christmas movies on the Hallmark Channel. I am so excited, every year, when the Hallmark Channel announces the beginning of the Countdown to Christmas, which is Christmas movies all day and all night! Hallmark Christmas movies will always leave me feeling good, sooth my soul, and uplift! As unbelievable as it may seem, I have the Hallmark Channel on all day, every day during the Christmas season! I also love watching The Holiday and You've Got Mail!
Becky - Customer Delight
My favorite Christmas movie is You've Got Mail. I know it isn't technically a Christmas movie, but it was released December 18, 1998 and there are a lot of Christmas-like scenes in the movie. So I say YES! I really can, and do, watch this movie over and over again. It just makes me feel happy. Christmas movies have to be happy. If it's a non-happy part, I change the channel temporarily. And that scene at the end: "I wanted it to be you. I wanted it to be you so badly." 😍
Miguel - CEO
It's a Wonderful Life. I'm pretty much a fan of all Christmas movies, but It's a Wonderful Life is such a great story of how one person's life can reverberate through others. George Bailey's impact on everyone around him and the significance his life holds is such a beautiful story. I cry almost every time I watch it.
John - Information
Despite neither being released during the holiday season, nor taking place during Christmas, Amélie is the movie that best represents the spirit of the holiday. When I think about my relationship to the holiday season, the moments that make it joyous are those in which you can make the lives of others magical and allow them to escape from banality. The beautiful aspects of the holiday season are taken for granted as universal: a home with hardly believable lights, ice-skating over a blue sheet of ice, unwrapping the perfect gift, and, of course, the disappearance of the cookie in the morning. But this magic has not been afforded to the lives of all, and the Christmas spirit––to me––is about dedicating one's self to creating that magic for others. There is no film that represents this dedication better than Amélie, the story of a French woman who chose to spend her life creating beautiful coincidences for others.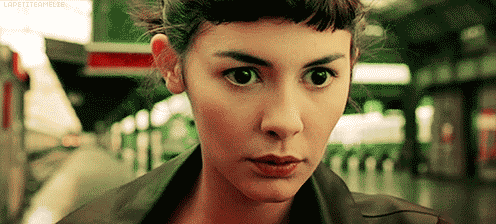 Rob - Digital Director
Santa Claus The Movie. It was my favorite childhood Christmas movie. My kids love it too.
Wayne - Brand Building
For my favorite Christmas movie, I absolutely have to go with A Christmas Story. It's a classic, has many notable quotes, and it's actually the first Christmas movie I can ever remember watching. The back to back to back showing on Christmas day is something I look forward to every year.